There's More To Botox® Than Erasing Your Forehead Wrinkles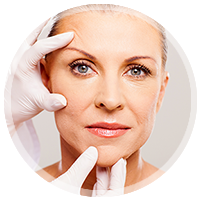 Gone are the days where you felt embarrassed or wanted to hide the fact that you're trying to look a little younger with enhancements courtesy of
Botox® Cosmetics
. New patients from East Memphis, Collierville, and Germantown are calling every day to learn more about Botox® and what it can do for you. We thought it might be a good idea to dedicate a blog to all of the benefits Botox® can bring to you and talk a little bit about how it works.
Breaking Down Botox®: Everything You Need to Know
Botox® usage has grown dramatically over the years, so it's not surprising that most people are already familiar with what it does. Botox® injections actually date back to April 2002 when the Food & Drug Administration first approved it. They found it to be an effective treatment method in adult men and women, ages 65 and younger. Since then, Botox® has become the #1 selling treatment of its kind. It's minimally-invasive, non-surgical, and composed of a natural protein strain called botulinum. After we complete a series of gentle injections, the effects start to take shape almost immediately. The protein in the dose acts as something called a neuromodulator. This is simply a scientific way of saying the Botox® affects how your nerve signals and muscles interact with one another. Nerve signals are prevented from reaching the muscles, which prevents them from contracting and the lines from deepening.
Open Your Eyes to the Many Benefits of Botox®
One of the biggest perks of choosing Botox® at Sneed MediSpa and Wellness is that we're gentle and discreet. We offer such a uniquely wide variety of cosmetic enhancements that no one will ever know what "work" you've had done. They're just going to know you look younger and more confident. One of the coolest things about Botox® is that there's more to it than just fixing the wrinkles on your forehead like a Real Housewife of Memphis. We can even do a Botox® brow lift or a Botox® eyelift. Botox® is also extremely effective at erasing issues such as:
– Crow's feet – Marionette lines – Smile and frown lines – Chronic migraines and headaches
Our patients love that Botox® delivers predictable, subtle results where you still look like you, but with fewer facial lines. Your injections are delivered as an outpatient procedure right in the comfort of our East Memphis MediSpa and Wellness center. Treatments generally take about 10 minutes, and there's no downtime. You're free to go about the rest of your day as usual! Typically, your best results appear within 24 to 48 hours after an injection, which is good to know if you're planning on a Botox® treatment before a special occasion. Every patient is different, so it's hard to pinpoint how many treatments you'll need to get and keep the result you want.
How Much Does Botox® Cost?
Since every patient requires a different amount of injections, the cost of your
Botox® treatment
will vary. Always be cautious about choosing discounted products similar to Botox®. (If it sounds too good to be true, it probably is.) You need to see a professional with a trained eye for this type of treatment. The best way to find out how much Botox® will cost for you is to
schedule a consultation
with us. So many people have benefited from FDA-approved, anti-aging Botox® injections. Has your curiosity been peaked, and now your ready to find out how we can enhance your natural beauty and turn back the clock to help you look years younger?
Contact
the team at Sneed MediSpa and Wellness in East Memphis, TN.
anti wrinkle procedure, Benefits for Fillers, botox, Botox injections, botox memphis, BOTOX® injections, facial filler, Facial Rejuvenation, Injectables, Medical Spa Memphis, Medispa, Medispa Memphis, Sneed Medispa, Sneed Medispa and Wellness, Sneed Wellness, under eye wrinkles, wrinkle reducers, wrinkle reduction