Fibroblasting
At Sneed Medispa and Wellness we offer a Fibroblasting skin tightening technique that  is a revolutionary new procedure. It is a fantastic alternative to a facelift because you still receive the skin tightening effects, but recovery is quick and painless.  
During the procedure, your licensed esthetician uses an electric handheld device called a plasma Fibroblasting pen. This pen uses a metal probe to ionize atmospheric gas between the tip and the gasses that your skin naturally emits, this forms a plasma charge. An electrical arc is then created, which results in diminishing your sagging, excess skin. Your tissues retract and tighten, and then voila, you are left with youthful-looking, glowing skin. Skin elasticity and tightening will continue to improve as time goes on post-treatment.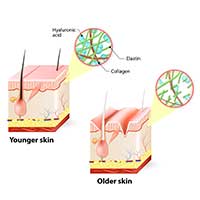 Depending on the area being treated, the entire treatment should take no longer than two hours. You will also notice the results at once. As cell turnover naturally occurs and the production of collagen increases, you will even notice further changes to your skin. You can expect to see full results of your treatment after around 3 months. The effects of the actual procedure will last 2-3 years.  
You might have slight discomfort during the procedure, but you are given a numbing cream before the procedure and a cooling cream after. Immediately after the Fibroblasting skin tightening procedure, you may notice that your skin is red and a bit swollen. This is completely normal and should subside in around three days. Although the slight redness could linger up to 14 days (about 2 weeks).  
While the procedure is underway, small bits of carbon remnants form on the skin. Do your best to avoid the urge to touch the carbon remnants after the procedure. You can expect them to last around a week. Then it will naturally fall off as new skin appears underneath the treated area.  
When you consider that you are getting a skin tightening treatment without the need for surgery, these side effects are much easier to swallow.  
Common areas treated are baggy lower eyes or excessive skin on upper lids. This treatment can target specific areas on the face such as crow's feet or crepey loose skin on the neck.  
Also treats:
Upper eyelids/hooding
Wrinkle reduction and skin tightening
Neck tightening
Reduce wrinkles above the upper lip
Scars
Nasalabial folds
Forehead
Chest
Hands
Stretch marks