Facial Contouring with MediThreads
Are you tired of looking in the mirror and seeing a drooping, sagging face looking back at you? As we get older, we gradually lose collagen. Collagen is a protein found throughout the body, primarily in skin, bones, tendons, and ligaments. Collagen in the skin works as a building block. It keeps skin tight, toned and youthful. As you age collagen diminishes. At some point in the aging process, you will notice more wrinkles and skin that is not as tight as it once was. Sneed Medispa has the perfect treatment for aging skin on the face, jawline, and neck. The treatment is facial contouring with MediThreading, and patients are raving over this amazing procedure. Many times, facial treading is referred to as a non-surgical face lift. 
What are Medi Threads 
Medi means Polydioxanone. It is a thread that has been used in cardiothoracic surgery for decades. According to newimageworks.com, "The Medi threads are a special medical grade thread, thinner than hair and made of protein." Research has confirmed that Medi relaxes tendons and muscles while simultaneously the foreign object in the body reaction improves the blood flow to the area, stimulating the production of collagen in the skin." Results are sometimes compared to a non-surgical face life with less downtime than a traditional face lift.
Primary Treatment Areas
Cheeks and areas of the mid face can be lifted
Brows are lifted and or creating an arch to the look of the eyebrows
Noses can be lifted and even straightened
Jawlines can be enhanced and tightened with a more youthful look
Neck tissue can we lifted and tighten along the jaw line
Lip borders can be defined
Areas around the nose and mouth can be lifted
Improves overall tone and texture of the skin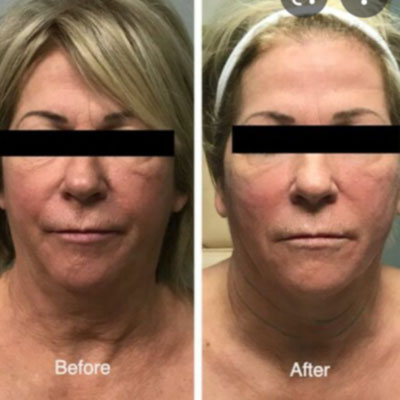 What to Expect During and After Your Threading Procedure
The patient is given a local anesthetic cream to numb the treatment surface. Lidocaine is also injected into the entry/exit points of the threads. The procedure time varies based on the number and type of threads being used. When the PDO Medi tread is inserted under the skin the thread gently creates a selective inflammatory response that causes collagen to be produced and makes the areas of the face fuller and tighter. The threads eventually dissolve within 4-6 months spurring the body to produce more collagen. Each thread that is placed under the skin serves as a building block to stimulate collagen production. Following the procedure, the new skin structure that is created with the collagen stimulation will last as long as 12-18 months. The targeted areas of the face are lifted and appear fuller. Patients commonly experience some swelling and bruising. If you are interested in a consultation for Medi Threading please call us today (901) 236-7722.